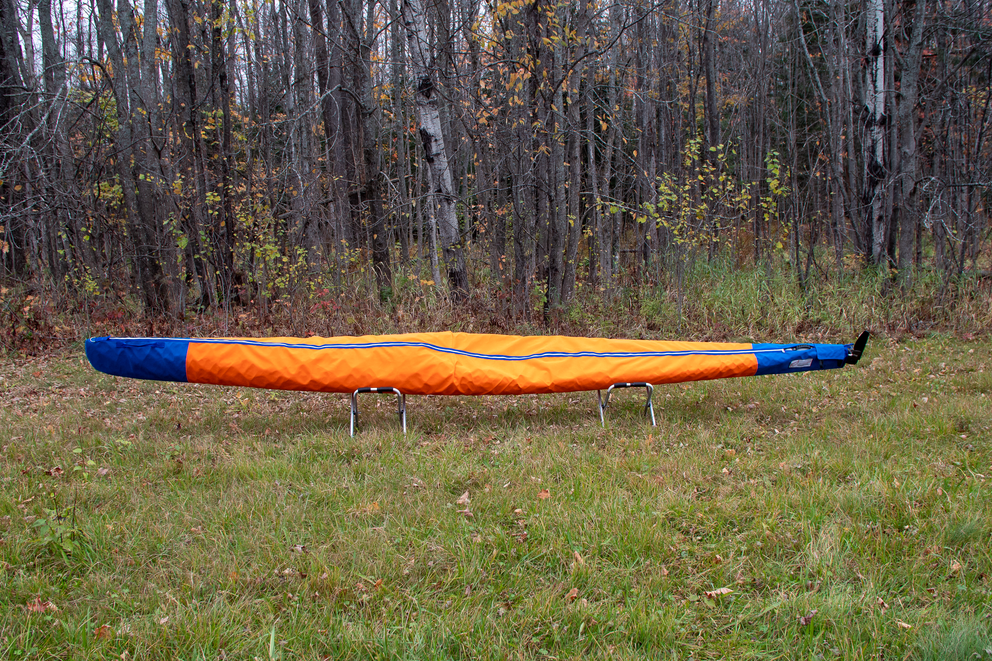 The Ultimate Cover - Kayak, Surf Ski, and Outrigger Canoes
$349.00
The Ultimate Cover is the best storage and transport protection available for your kayak, surf ski, or outrigger canoe. The Ultimate Cover is more robust and durable than our stretch-fit Original Bag Lady covers and has a full-length marine zipper closure that makes installation and removal easy and fast, even when you're solo. It takes less than 60 seconds for one person to put an Ultimate Cover on a boat. Like all of our covers, the Ultimate Cover is custom sewn for your specific sea kayak, surf ski, or outrigger canoe to ensure a great fit. These covers fully enclose your boat and are designed for long-term indoor and outdoor storage, as well as transportation at highway speeds. Features that set the Ultimate Cover apart from the competition for durability, rugged construction, and convenience include: Sunbrella Marine fabric, the best marine-grade, water- and UV-resistant fabric available A full-length, YKK #10 molded marine zipper Fully bound edges Double- and triple-reinforced seams Reinforced bow tie-down points with welded stainless steel D-rings Optional reinforced, mesh-lined drains Optional reinforced carry handles Optional quilted polyester padding When ordering, be sure to tell us if your boat has any non-standard features or options, like an add-on over-stern rudder, wave deflectors, deck compasses, RAM or other high-profile mounts, etc. If you're not sure, feel free to email or call us! Should I get a padded cover? We generally don't recommend getting a padded cover. If you have a very fragile boat or keep your boat in a club or public storage area, padding can offer a bit of extra protection from the unavoidable bumps and scuffs. However, padding is also another place for grit and sand to accumulate and can take longer to dry than an unpadded cover. We can tell you that we only have padding in one of our own Ultimate Covers - our most fragile, lightweight ICF K1 that is stored indoors. What is the difference between an Ultimate Cover and an Original Bag Lady cover? Our Ultimate Covers are custom-fit from non-stretch, marine-grade Sunbrella fabric and have a full-length zipper so the boat can go directly in and out of the cover. When they're on the boat, there is about an inch of slack fabric around the circumference of the boat. Our Original Bag Lady covers are made from a stretch-fit premium polyester or marine-grade WeatherMax 3D. The front half of the cover slips over the bow like a sock and the back half zips up to enclose the boat. There is little to no slack fabric around the circumference of the boat. Both styles of cover fully enclose your kayak/surf ski/outrigger canoe and are made from breathable fabric. The Ultimate Cover is more durable, better for long-term outdoor storage, and easier to put on; the Original Bag Lady covers are more economical (in premium polyester), lighter, and offer a driving-glove-like fit. Should I get drains? We offer optional reinforced mesh drains sewn into the bottom of the Ultimate Cover. Depending on the length of the boat and whether it has an under-stern rudder, we install two or three drains on a cover.  The Sunbrella fabric is very water resistant, but not waterproof. Additionally, the #10 molded marine zipper is not waterproof. As a result, some water will get into the cover in heavy precipitation. If you store your boat upside down so the zipper is on the bottom, you don't need the drains - any water that manages to get through the fabric will exit through the zipper. This is how we recommend storing and transporting your boats, both to avoid the need for drains in the cover and to avoid water accumulating in the cockpit or bucket.  If you store or transport your boat right-side up and where precipitation falls on it, we recommend adding the drains so that any water that enters the cover through the zipper or fabric can easily exit. Residual moisture will evaporate through the breathable Sunbrella material without causing any harm to the boat or the cover. Should I order the optional carry handles? Some customers carry their boats by wrapping their arms around the bow and stern and don't want webbing handles added to the cover. Other customers prefer to carry the boat by a handle and appreciate having a webbing carry handle added to the cover.  If your boat already has a stern carry handle built in, you can always access it by unzipping the stern of the cover when you're carrying the boat. We don't think a stern carry handle is needed on those boats.  Personally, we add the bow carry handle to our heavier sea kayaks, but leave them off of our lighter surf skis and racing kayaks.  Which type of cover would we choose for our own kayaks, surf skis, and outrigger canoes? We've replaced all of our Original Bag Lady covers for our kayaks, surf skis, and outrigger canoes with Ultimate Covers. We created the Ultimate Cover because Jeremy was tired of wrestling the front 11 feet of his 21-foot surf skis into its Original Bag Lady kayak cover after long training paddles and wanted a full-zip, non-stretch option that was faster and easier to put on.  My kayak, surf ski, or outrigger canoe isn't listed in the Manufacturer or Model drop down. What do I do? Don't worry! We make all of our patterns from measurements and don't need your boat in the shop to make a perfect cover. Just contact us by email at hello@redleafdesigns.com or by phone at +1 (906) 451-4539 and we can send you a measurement packet that walks you through the measurements we need, step-by-step. Can I get an Ultimate Cover for my open canoe? We don't offer full-zip Ultimate Covers for canoes due to the large circumference of most canoe designs. However, we do offer the Canoe Coat, a durable long-term outdoor storage cover made from the same custom-fit, marine-grade Sunbrella fabric and featuring quick on-and-off buckle straps. It's the highest level of storage protection and the most durable, UV-resistant cover you can get for your canoe, but is not suitable for transportation on a vehicle.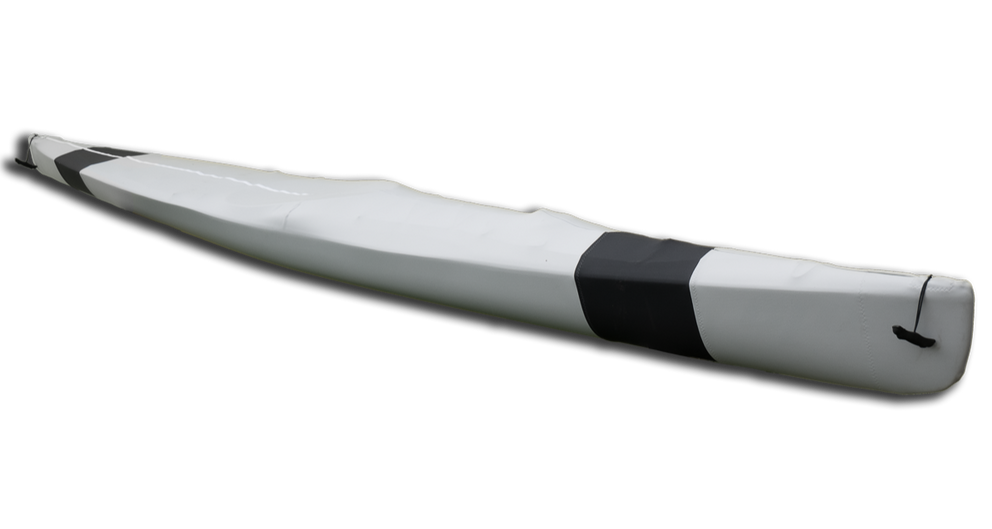 The Original Bag Lady Kayak Cover
$259.00
IF YOUR KAYAK PATTERN IS NOT LISTED IN THE DROP-DOWN OPTIONS, DON'T WORRY!  While we have many patterns for many kayaks, there are always many more that we don't have. Contact us at hello@redleafdesigns.com or (906) 451-4539 and we'll send you a measurement guide so that we can make a custom-fit cover for your boat.  Before ordering a WeatherMax 3D cover, please read this statement about minor cosmetic flaws in WeatherMax 3D fabric. The link will open in a new window, so you will not lose any information you've already selected on this product page.  _________________________________ Our Bag Lady kayak covers are made from the same premium, double-knit polyester or marine-grade WeatherMax 3D fabric as our famous canoe covers. These covers protect the hull of your kayak from UV damage, fading, bugs, scratches, stone chips, road grime, and more when you're transporting or storing your kayak.  The cover fully encloses the kayak and seals with a durable, plastic #10 YKK marine zipper. Understern and overstern rudders are accommodated with a variety of closure variations depending on your boat's specific rudder system and positioning.  Each cover is custom-sewn for your kayak to ensure a perfect fit that minimizes flapping when traveling and provides easy access to carry toggles, handles, and tie-down points.  Previous owners of Bag Lady kayak covers attest to the benefits of protecting their kayaks with the one and only Bag Lady kayak covers, reporting: Less darkening and aging of Kevlar Less blushing, milking, and yellowing of epoxy Less oxidation and fading of fiberglass gelcoat Less fading of polyethylene Less travel wear and road dirt Less required maintenance Less UV damage to hatches, deck lines, cockpit covers, and deck fittings Higher resale values Bag Lady kayak covers are unequaled in durability and workmanship, offering a unique closure system, an impeccable fit, and top quality, Made-In-The-USA fabrics to protect your kayak. They are all made to order in our family sewing loft in Skandia, Michigan.  Bag Lady kayak covers are ONLY available direct from RedLeaf Designs. Beware of imitations and look for the RedLeaf Designs logo on your kayak cover! WHY POLYESTER? Our most popular and budget-minded fabric is a durable, stretch polyester double-knit. It's long-wearing and great for general protection from UV damage, road dirt, bugs, strap-rub, etc. This is the fabric that you probably have in mind when you think of a Bag Lady cover.  Note that polyester is not waterproof or water-resistant. This isn't a problem for most fiberglass, carbon, Kevlar, cedar strip, or polyethylene kayaks, since the fabric breathes very well and dries very quickly: water won't damage most kayaks. In fact, breathability is crucial so that the cover doesn't trap moisture between the cover and the boat, leading to mildew and mold issues.  Polyester also fades quickly in the sun, but we still think it's a great material for a cover. We use a premium polyester fabric that's thick and will give you many, many years of service even though the outside of the fabric will fade.  WHY WEATHERMAX 3D? WeatherMax 3D is a premium outdoor, marine-grade fabric that offers the same, form-fitting stretch and exceptional fit of polyester, with a number of additional benefits: Water-resistant and breathable Blocks 99% of UV light for long-term UV resistance Exceptionally color-fade resistant HydroMax finish for dirt and mildew resistance 100% pigment solution-dyed SaturaMax fibers While our premium polyester has been the mainstay of the Bag Lady covers for the past 40+ years, the additional cost of a WeatherMax 3D cover is well worth the investment if you want the best possible cover longevity or your canoe is stored outdoors. Before ordering a WeatherMax 3D cover, please read this statement about minor cosmetic flaws in WeatherMax 3D fabric. The link will open in a new window, so you will not lose any information you've already selected on this product page.  PRICING Most polyester kayak covers cost $259 for kayaks up to 18-1/2 feet long with a maximum hull circumference of 56 inches or less. WeatherMax 3D covers start at $359. Longer and wider kayaks and kayaks with understern or overstern rudders will require an upcharge for additional fabric and labor.  DELIVERY TIME Most covers are made-to-order. In the off-season, we're often able to begin working on your cover within a day or two and ship it within a week. During the busy Spring and Summer seasons, we often run a month or so out on orders.  Check the home page for our current lead time, as well as any in-stock covers that are available immediately.